Launch of Xiaomi Mi 4 flagship and…$13 wearable armband!
Xiaomi is currently the most powerful smartphone manufacturer, just behind Apple and Samsung. Company profits are constantly growing. Today the brand's new flagship, the Xiaomi Mi 4, has its premiere. Both the design and parameters of the device should appeal to the vast majority of users.
And moreover, as always with Xiaomi, it's all at a relatively affordable price.
Sleek design
Part of the Mi 4's chassis is made of metal, which is quite a popular trend lately. The phone itself is compared to the iPhone'a 5 and Samsung Galaxy S5, both in terms of hardware'u and software'u. The sides of the phone are slightly beveled, and the back casing is rounded.
The whole thing creates a slim and aesthetically pleasing effect. The manufacturer has also taken care of the flagship's design, offering interchangeable back covers. Reminiscent of natural raw materials such as wood, marble, stone or metals.
Impressive parameters
Xiaomi Mi 4 has processor 2.5GHz Qualcomm Snapdragon 801 and 3GB RAM. The screen is 5 inches in size and Full HD resolution. We can purchase the smartphone in 16 or 64GB memory versions. The rear camera has a high resolution of 13MP and can take great quality photos and videos (4K quality). The resolution of the front camera is 8MP.
The battery has a capacity of 3080mAh, which is also impressive. The operating system is Android 4.4 KitKat. Such specifications put the phone on a par with other flagships available on the market.
The differentiator is definitely the lower price.
For how much and where?
The price of the Xiaomi Mi 4 is $320 for 16GB memory and $400 for the 64GB model. For now, it is not yet known whether the phone will hit overseas markets or remain available only in China. However, with such specifications and price, the smartphone would certainly find willing buyers outside Asia as well.
According to preliminary assumptions, Xiaomi is expected to enter the US market next year, from where it is not far to conquer the global market.
First wearable from Xiaomi for $13!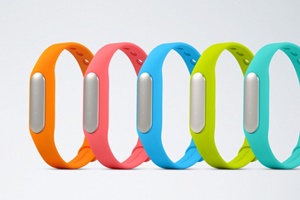 In addition to the launch of the flagship smartphone, the first of the wearables from Xiaomi also saw the light of day – the Mi Band. Its battery is expected to last 30 days of use, and its price is… $13! It seems abstractly low, compared to wearables from all other companies. The Mi Band's main task is to track the user's activity and sleep. The band is also used to unlock the phone, it also supports alarms.
It is not yet known whether the wristband will be compatible only with Xiaomi products, or perhaps with all Android devices. For such a price, it would be a shame not to try out the.