Smartphone in the kitchen, or kitchen aids for the mobile age
Everyone loves to eat. This is why a smartphone can turn out to be a reliable helper in the kitchen. It turns out that thanks to the creativity of mobile gadget makers, our kitchens can increasingly resemble fully robotic science-fiction kitchens. What's more, many of such gadgets fit in the palm of your hand. Also, the number of applications in the "food" category continues to grow and reach a considerable variety.
We present a set of applications and mobile gadgets that will help in any kitchen situation and make eating even more fun.
Molecular detector… of everything?
SCiO is a crowdfunding project that has raised as much as more than $2.4 million to implement the. SCiO sounds like real science-fiction, but it could revolutionize not only our kitchen, but also medicine or environmental science. The manufacturers themselves call it a "sixth sense".
It's a small molecular spectrometer that fits in the palm of your hand. When we point it at any product, information about its chemical composition (and more) will be displayed on our smartphone. On a smartphone, we choose whether we want to receive information about e.g. About materials, plants, alcohol, drugs or perhaps the level of dehydration in our bodies.
Among the options for testing food, we can choose those examining its freshness, sweetness, calorie content, ripeness, in the case of alcohol – the "strength" of the drink.
Electronic nose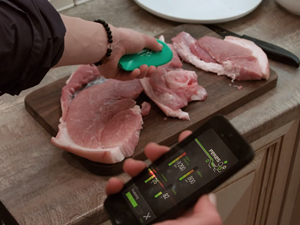 PERES is another crowdfunding project. The creators describe it as an e-nose through which users can check the quality and freshness of meats – beef, pork, poultry and fish. A special remote control-like device connects to a tablet or smartphone via Bluetooth. After selecting a type from the meat from the app and pointing the device at the product, detailed graphs on the freshness of the meat and its suitability for consumption appear on the screen.
Sometimes sight and smell can deceive – PERES is designed to help avoid food poisoning.
Smart oven
Dacor Discovery iQ 48″ Dual-Fuel Range Oven This is a truly intelligent home appliance. It has a built-in tablet that makes cooking easier. What's more, we can control our oven remotely – via smartphone, meaning we have the ability to start baking early enough for us to get home and eat a freshly baked dinner right away.
The app and built-in tablet is also a treasure trove of recipes and culinary instructions. The oven also allows us to automate baking programs, and we can be notified by text message of a changed baking cycle.
Smart home from LG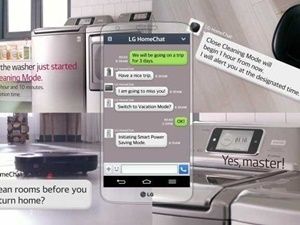 At this year's CES LG has unveiled its vision for the Internet of Things, specifically the kitchen. The project involves communicating with home appliances as if they were people – via text messages. Thanks to the system HomeChat We will be able to send text messages to our washing machine to start the laundry, or to the refrigerator to go into low energy mode.
What's more, according to the announcement, the devices themselves are supposed to communicate with us, asking e.g. or cook dinner for the evening. At the moment, the smart fridge, smart washing machine and smart oven are available for sale – it only remains to wait for the other appliances, such as the following. A coffee maker that will brew coffee for us whenever we turn off the alarm clock alarm.
Omniscient apps
A few days ago we wrote about the app eFood, Available on Android, as iOS. It's a Polish project that will check the composition of products for us and tell us whether our choice is healthy or perhaps deadly. After scanning the barcode on the package, a list of all ingredients is displayed on the smartphone, along with an indication of their effects on the body.
An analogous application, designed for the US market, is Fooducate. Other similar apps that are used to decipher what's behind the bizarre names of ingredients are for example. E-codes or Know what you're eating. App Substitutions, available on iOS can make life significantly easier for allergy sufferers, as it searches for substitutes for products we can't eat for some reason.
App Vivino, available on both Android and iOS, it's something for wine connoisseurs – just take a picture of the label to get detailed information about the liquor. It also helps discover new flavors based on personalized recommendations. Thanks to the app, we can also check what wine our friends will like.