Report from Mobile Trends for Business and Mobile-IT
Presentation of mobile devices and applications for companies, extremely interesting inventions in the Start-Up zone and the opportunity to meet experts from around the world during the Mobile Trends for Business conference. Behind us was the premiere edition of the Krakow Mobile-IT Fair, which was attended by nearly half a thousand IT professionals and dozens of companies from USA and abroad.

– Despite the shrinking number of trade fairs for IT professionals, these ideas should be revisited. Due to the fact that it is not enough just to communicate via the Internet and mobile devices. In business, you have to look the other person directly in the eye.
I don't know of a mobile app that can compare and evaluate chemistry between individuals. I am impressed with the EXPO Krakow facility. It is definitely worth developing this initiative, says Waclaw Iszkowski, president of the Polish Chamber of Information Technology and Telecommunications.
All about mobile technologies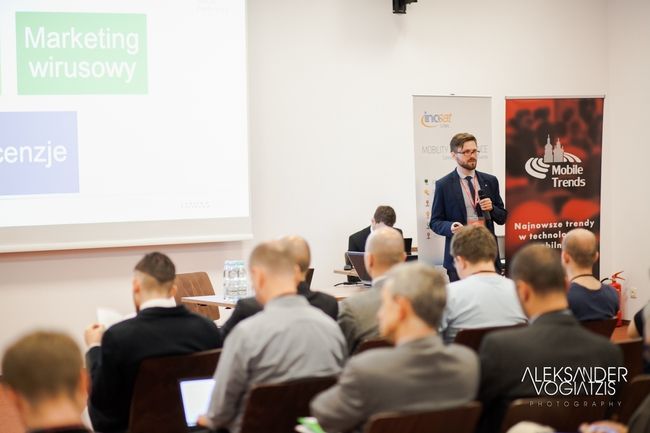 The Mobile-IT Fair was attended by dozens of exhibitors. Among them were companies offering mobile solutions and presenting the latest industry trends. Despite the fact that this was the first edition of the Fair, it aroused interest abroad.
Companies from Portugal, the UK, as well as Germany appeared in Krakow.
– The premiere edition of the Mobile-IT Fair in Krakow was a great opportunity for us to present our software for managing corporate IT networks. We are happy to participate in this event. Our software for managing client stations and mobile devices is meeting with great interest here.
We see a lot of business potential in Malopolska and across the country. USA is a very important market for us, and well-organized industry events, such as the Mobile-IT Fair, help us to reach out to our customers with our offerings," – says Peter Zeis, International Sales Manager at baramundi software AG.
Other exhibitors came to Krakow for the same purpose.
– We were looking for business contacts and here we found them. There may not have been crowds, but instead people showed up who were well versed and aware of what they came to the Fair for," says Piotr Radlinski, president of Smart Mobile.
Gadgets of the future
The exhibitors gathered in the Start-Up zone were of great interest to the visitors, but also to the media. It was where you could see m.in. Google glasses, eyetracking glasses, Estimote sensors and the famous Oculus Rift. The organizer of the zone was ClickMaster USA.
– I thought that the fair was going away, and here a big surprise and a large number of interested people. At our booth we constantly had traffic. Thanks to our participation in the Fair, we were able to present a product that stirs emotions.
The industry is developing very dynamically and such an event is much needed, says Maciej Dejer from Berry Life, which presented the Oculus Rift.
Business and knowledge
Simultaneously with the Fair, a conference was held Mobile Trends for Business, During which knowledge and experience were shared by more than 30 speakers – experts and enthusiasts of mobile technologies.
– The combination of conference and trade fair worked well. We did it for the first time and such a formula was positively received. Participants during breaks could talk to representatives of many interesting companies operating in the mobile technology industry.
Our speakers provided a high level of content, and presented many interesting case studies," says Robert Rachwal, owner of ClickMaster USA, organizer of the conference.
Trade show Mobile-IT and the conference Mobile Trends for Business were held under the honorary patronage of Deputy Prime Minister, Minister of Economy Janusz Piechocinski, Mayor of Krakow Jacek Majchrowski, Marshal of the Malopolska Region Marek Sowa and Malopolska Voivode Jerzy Miller. The Internet Association of Employers of the Internet Industry was the content patron IAB USA and Polish Chamber of Information Technology and Telecommunications. The event was sponsored by the companies: baramundi software AG, ASPEKT, MOTOROLA, mBank, InoSat Global, naviExpert, AirWatch and Zebra Technologies.