Microsoft's killing of Nokia the biggest failure of 2021 – Michal Galubinski
Michal Galubinski, UI/UX specialist, creator of the "thoke" graphic design agency for major brands in USA and abroad, shares his knowledge with us as part of the series "3 questions for the Mobile Trends Conference speaker". His 18 years of experience in the market makes itself known – summing up 2021, Michal Galubinsky shares his insightful observations, picking out the biggest "mistakes" of the past year and the biggest changes it brought with it.
1. What in your opinion turned out to be the mobile "failure" of 2021 and why?
Microsoft's killing of the Nokia brand. I completely understand Microsoft's step, I myself advise my own customers to stop grinding and diluting their own brand, but the culling of phones with the "Nokia" logo is a loss in a short time of a sizable group of supporters of the mobile Windows system. In quite a number of countries, the system has made its presence felt on devices only because of the Nokia brand and good associations with the manufacturer. Especially in Europe, this move will hurt, where several countries are pulling global statistics (
3%) towards the top (USA 15%, Italy 13%, France 10%). The question remains about the market in North America and Asia, where, in turn, this move could give positive growth in the long term.
However, I believe that after just one year we will see these values change to the disadvantage of Windows Phone. On the plus side, there will have to be more awareness of users choosing this operating system rather than a device for sentiment's sake.
Also a continuing failure is the fragmentation of the most popular system – Android. Google hinted at the beginning of the year that it would change the way it licenses to clean up the ecosystem a bit, and … silence. Nothing changes, more devices appear, more resolutions, aspect ratios, densities and more and more new overlays.
Even top devices that could theoretically be upgraded to newer systems are lagging behind. The mess is giving the designer a headache.
2. What are the biggest changes in the mobile industry that 2021 has brought with it?
First of all, increase awareness and knowledge of the mobile market in entrepreneurs. People talking about "mobile" are no longer aliens, and for a large group of, for example, my principals, any lectures about the advantages are truisms. As a consequence of this change, today virtually every new website is responsive.
It should be recalled that 2 years ago there were still debates about the advantages and disadvantages of separate versions of websites for mobile devices, and there were also voices about the lack of sense of any solutions dedicated to mobile devices.
The development of mobile payments, which I talked about in the previous questions. I suspect that here you will be able to listen from Monika Mikowska a good piece of knowledge and reflections.
Beacons, the song of the future. Combining the real world with mobile – applications are as many as ideas can be. Adam Jesionkiewicz, on the other hand, will speak best about the opportunities on Friday, February 13.
Cannibalization of tablets by phablets. While a year ago many people said that this was a short-term trend and it was too early to talk about it, having, in front of your eyes, the summaries of this year and putting them together you can clearly see the trend. Today, sooner a new customer will propose to make an application adapted to more resolutions than think about a version for tablets.
Tablet as a device for typical content consumption, or even risk saying that for entertainment consumption, is being displaced by larger smartphones – more convenient and with at least the same parameters.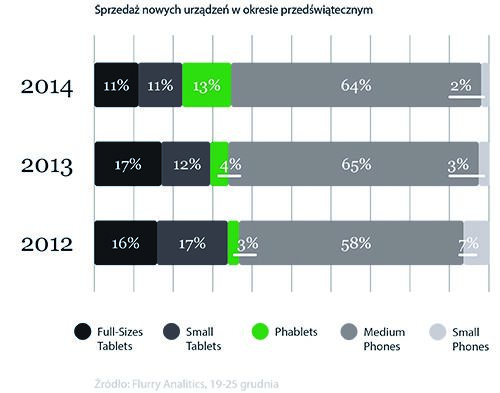 In 2021 when going to the mountains I took a tablet, this year (2021) the tablet is neither in the backpack nor is it a device used somehow often at all. I keep these devices practically only for testing applications designed for clients. At the end of 2022, he predicts that phablet sales will reach between 20 and 30% at the expense of both further declines in tablet sales and smartphones with medium-sized displays.
3. You will give a lecture at the Mobile Trends Conference 2022. What your presentation will be about?
At one time Bill Gates deigned to grace us, in the mid-1990s, with a few sentences directly and indirectly related to design. Among other things, he said that all you have to do is spray-paint a gray PC and it will be the same as Jobs' designer PCs, or the famous "content is king". Which has even become a slogan of marketing and SEO.
The richest man can't be wrong. For this it should be mentioned that from his theories recently Bill retreats / denies.
From the very beginning, products from the stable of Microsoft looked terrible, in my opinion, they won only due to business ability and betting on the best horse – cheap PCs. However, for several years (since the introduction of Metro UI – now Modern UI), from this path and Microsoft has been moving away. Design, however, sells.
During the speech I will show, using the example of several case studies, a rather surprising combination of e.g. Such concepts as depreciation and design. I will show the impact of the visual layer or user experience on the financial side of any project. I hope to convince you that through the visual layer you can achieve your business goals, and without paying attention to this topic, you may not achieve them or spend much more time and resources on it.
I will show that competitive advantage and user requirements require "design". And finally I will say in a few points how to get to this "design".
Michal Galubinski
Designer of mobile applications, interfaces, websites, UI/UX specialist. More than 2 thousand projects and 18 years of experience in the market. Creator of the agency "thoke" engaged in graphic design for major brands in USA and abroad.
Owner of several brands, startups, and on top of that a blogger.