What do we need Direct Billing for?
From the last article you might have learned what direct billing is. You already know what mobile payment is, since when it occurs, and what other forms of mobile transactions you have. Now we can move on and explain what we need direct billing for (if we need it at all). Because it's easy to guess that you won't buy everything and everywhere with this transaction.
Ahead of you is a short guide – where, when and why to use direct billing.
Imagine coming home tired from work after a full week. You don't feel like reading challenging literature, much less meeting friends on the town. If you are a parent, suppose you just happen to have a free evening, because the grandparents missed their grandchild and took him to their place for the weekend.
In a nutshell: you have an evening to yourself, but neither the time is plentiful nor the energy is carrying you away. You choose your entertainment: a network game. You quickly fire up the website, within a few minutes you've already shot down a couple of fighters or conquered the lands of your elven enemy. You have a brilliant strategy of action, you feel that you will win this "campaign", but the time is getting less and less, because it has just hit 22. You used to play all night to get the skills you need, or go to bed and fight to win from the morning.
Now, of course, you can choose the "classic" variant, or you can help yourself a little and buy additional weapons, characters, artifacts or simply currency. All you have to do is pay the amount indicated. The question is how would you like to do it? I dare say that you care little about the name of the transaction, the key is speed and ease of use. Therefore, probably given a choice of transfer or mobile transactions, you will choose the latter.
As I mentioned in the previous text with direct billing you will pay any amount, and SMS – em Premium – the amounts specified in the price list. Thus, probably unknowingly, you will benefit from direct billing, because it is the only one that meets the criteria of speed, ease and flexibility (m.in. prices).
WHO?
You are not a fan of computer games? Then maybe e-books? Social networks? The users of direct billing are those who use online portals, so they will be, for example.:
A teenager who buys access to a Minecraft server,
adult using NK.pl, who needs to buy a Eurobag e.g. to open paid features in the gaming area,
An individual entrepreneur who inserts an ad for office rental on the Gratka website,
A fierce World of Tanks player who wants to rearm his tank,
A student writing a master's thesis who needs access to the archives of Rzeczpospolita,
A young girl looking for new friends on Badoo who wants more features,
A driver who wants to list a car and highlights his ad on Otomoto.
You see your loved ones in this group? Neighbors? Friends?
Just! Direct billing is so universal that we can use it in many places, regardless of our age, gender or interests. And just to be clear, I do not urge you to necessarily pay in social networks, because it is an individual matter of each person on what he wants to spend his money on.
I am trying to show that the use of mobile transactions is nothing new. We have been paying for various services using them for years. Except that we are now increasingly using direct billing for this, rather than other types of transactions.
WHAT?
It is worth taking a moment to look at some examples of direct billing users. In principle, they have nothing in common, but the products they redeem have a common denominator – they are the so-called. virtual goods. In this product category you will find m.in.: multimedia products on websites (video content, e-books, music, games, etc.), currencies and points in online games, access to social networks, access to selected sections of the website (articles, reports, additional features, etc.), special features and distinctions in advertising services, fees for TV channels.
What then can you buy using mobile payment? The most diverse digital products.
WHERE?
The answer to this question comes to itself – on the Internet. Since we buy products that exist only online, that's where we can buy them. In theory, you can also buy e-goods from a stationary store (e.g. pre-paid cards for World of Warcraft), but this is not the most practical solution, because most often goods paid for with direct billing we want to use right away, not when we get home.
HOW?
The easiest way to understand the mechanism of operation is to "see" it. That's why, in the end, we'll come back to gamers and a short case study showing direct billing on a gaming site.
WORLD OF TANKS (http://worldoftanks.eu/), a computer game focusing on armored battles, played online by many participants (of the MMO genre – massively multiplayer online game).
1. Choice of offer. Initially, we choose how much currency we want to buy.
Some of the offers that can be paid by premium SMS are unmarked, those that are more expensive (above PLN 30.75) can only be redeemed by direct billing.
2. Description of the offer (DB at T-Mobile). You can redeem gold for yourself, or send it to another player.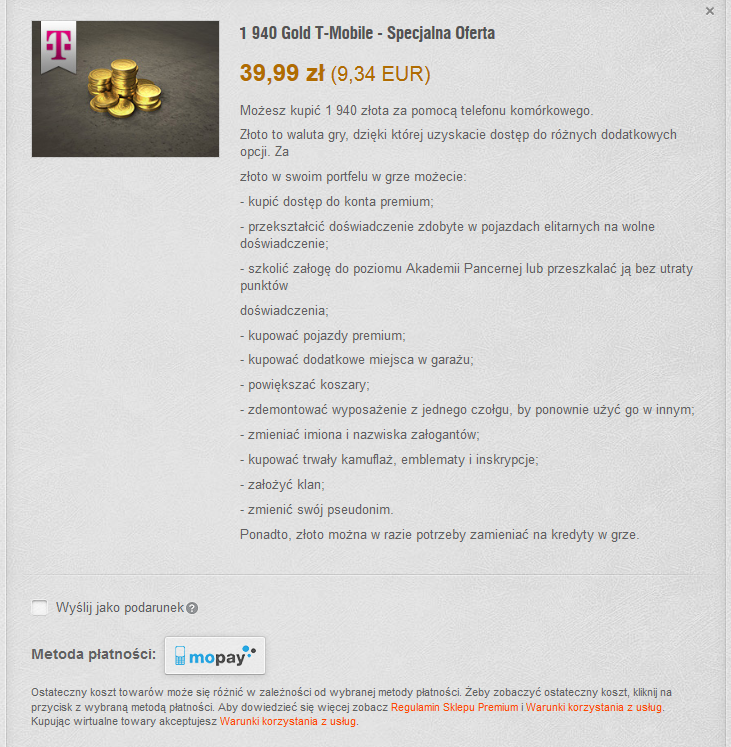 3. Entering a phone number. After selecting the offer you are interested in, we proceed to complete the transaction, that is, we enter our phone number.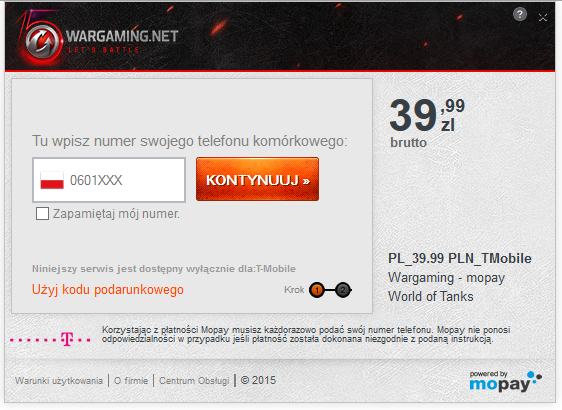 4. Instructions on what to do to make a payment. As I mentioned, using direct billing is quick and easy.
Immediately we are presented with a message telling us what we should do next to complete the transaction. In the case of this case, the buyer is asked to send a text message. In other cases, you can get an SMS with a code to enter on the site or an SMS asking you to send a free SMS to confirm the transaction.
In each situation to complete the transaction, a cell phone is needed.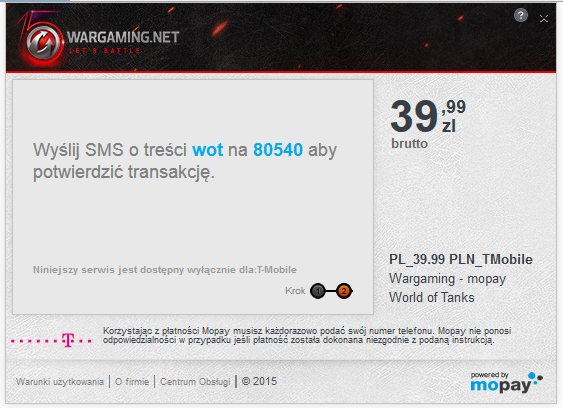 As you can see, the price of e-goods was above 30.75, i.e. by design, you could not pay premium SMS. You can also see that while playing the game, you can immediately buy the item you need, without having to log out or leave the virtual world – just have your cell phone at hand.
Time for a brief summary. Direct billing is needed for quick transactions for e-goods. We are using these goods more and more frequently and willingly, so we will also increasingly be users of mobile transactions. Before clicking on an offer available via premium SMS, it might be worth thinking about whether the one available via direct billing is more beneficial to us. Everything is limited to a cold calculation of whether we prefer e.g. Buy one issue of the newspaper (to be paid by premium SMS) or prefer a subscription (to be paid by direct billing).
I urge you to make an informed and rational choice.